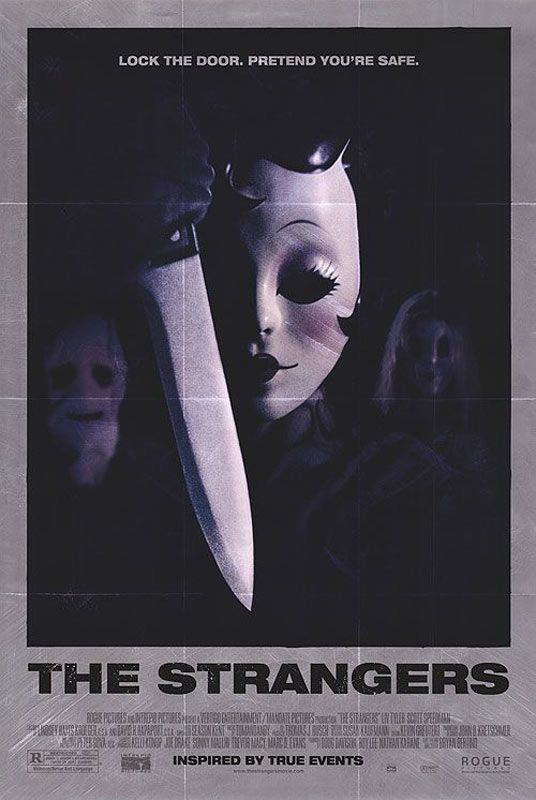 The Strangers

(2009)
- Surprisingly enough, it's legitimately frightening for the first 50 minutes. But after an hour or so of watching the doomed couple make one predictably boneheaded move after another, mucking up any chance of survival, you almost feel like the they deserve whatever knifing they are about to get. Whatever character-building subplot established in the beginning is also tossed out the window as soon the "mysterious" boogiemen/women start harassing the shampoo-commercial couple (Scott Speedman/Liv Tyler). I get that they were going for the minimalist thrills of old horror, but at a certain point all the well-executed dread and wide-angle shots in the world aren't going to keep me interested for over an hour in the same house with the same lame killers.
Another in the long line of "based on true events that no one knows anything about except a couple dead bodies and a bunch of blood-spray patterns,"
The Strangers
tries so hard to keep the, um, strangers, mysterious, that by the end the vicious killers are just kind of boring. (It also attempts some sort of tossed-off, wannabe
Funny Games
statement by near end, but with neither the conviction nor moralizing to pull it off, and it reads more like a cop out for all the nihilism than an actual idea) But, it's still better at creating suspense and general fright than just about every other horror movie I've seen recently, so shit, I'll give it a
B
.
Nick and Nora's Infinite Playlist
(2008)
Nick and Nora drive around NY having a generally unpleasant time, arguing about boys and girls and dragging the audience along for the drudgery. It's only redeemed by Michael Cera's dry one liners, which are almost canceled out by annoying indie-band name drops and twee quirkiness (look it's a Yugo! haha! Look, they drew popular indie band names around the title card like school notebook. puke).
D+/C-
Heavenly Creatures
(1994)
Peter Jackson's second-to-last film before heading to Middle Earth,
Heavenly Creatures
tells the true story of two New Zealand teens (Kate Winslet and Melanie Lynskey) who form an unbreakable and destructive friendship. Jackson's manic camera movements, dutch-angle close ups and realer-than-real color saturation create an instantly-recognizable, surrealistic canvas to paint his characters. Winslet and Lynskey nail crazy - Lynskey the angsty brooding type, Winslet confident and bright (with occasional steps into overacting).
Jackson's impressive trick is keeping the story grounded by Lynskey's character's real life diaries, while still coloring outside the lines during the girl's escapes into f/x fantasy that slowly become more nightmarish to anyone watching. The farther they are allowed to run into their own world, the farther they are from ever being reigned in, taking the audience with them to the devastating and inevitable conclusion.
B+